Our Faculty and Staff
Futuro Verde is fortunate to boast a diverse, experienced and uniquely talented group of individuals working together each day to collaboratively meet the needs of our multicultural and multilingual student population. This combination of depth of experience and breadth of interest and expertise assures a consistently high level of teaching and learning at all grade levels and for all courses of study.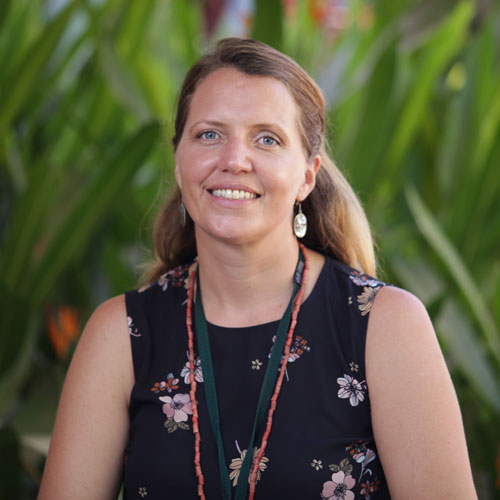 Lural Ramírez
Director
Before coming to Futuro Verde, Lural worked previously in Monteverde, Costa Rica and for 10 years in the United States.  In her work in Oregon she was a founding teacher and program coordinator for a Spanish/English Dual Immersion program at a local elementary school and worked to train teachers and school staffs on their implementation and development of high quality dual immersion programs. In recent years, Lural has loved moving into the IB world- having completed the IB Head of School training and the Theory of Knowledge training as well. With Bachelor's degrees in Communications and Spanish and a Master's Degree in Teaching with an emphasis on Bilingual and ESOL education, Lural is excited to bring her passion for rigorous and integrated international and multicultural education in a bilingual learning environment to the diverse community at Futuro Verde. In her spare time Lural enjoys surfing, running, doing yoga and Pilates and spending time at the beach with her husband, Alejandro, and her three children, Joaquin, Santiago and Quetzal.
Contact: lural@futuro-verde.org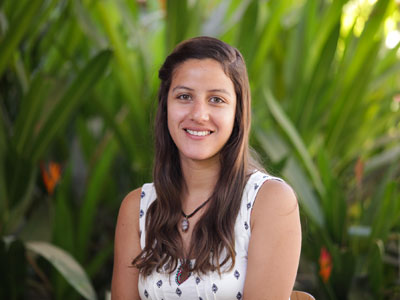 Angie Briceño
Administrator
About Angie
Angie Briceño is from San José. She has extensive experience working at Montessori and international schools for the past 5 years and lived overseas as an au pair in the Netherlands for a year. She is also a yoga instructor for kids and volunteered as a computer teacher for various non-profit organizations.. Angie has a Bachelor´s degree in Early Childhood and she is currently finishing a master´s degree in Project Management at ULACIT and is excited to use her expertise and wisdom here at Futuro Verde. She is excited to bring her various skills to Futuro Verde and to keep learning from her colleagues while supporting kids in their holistic health and academics. Angie works as the school's Director of Development and Admissions Manager, managing fundraising related to major donors and small school projects along with the role of helping families throughout the admissions process. This new responsibility is an exciting addition to Angie's strong connection with the Futuro Verde community in Costa Rica and abroad. In her spare time, Angie loves to spend time at the beach, she likes to run, practice yoga and to read.
Contact:
angie@futuro-verde.org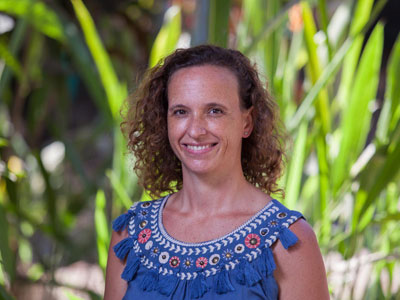 Carla Kagel
Communications Manager
About Carla
Carla was born and raised in Buenos Aires, Argentina. She studied Image and Sound Design in the University of Buenos Aires, UBA. She also took several courses in photography, FX and animation. After completing her studies, Carla worked on a few television programs editing and producing. After a while she decided to take time to travel and to learn and experience other cultures and ways of life. She traveled through Central America and fell in love with the town of Montezuma and its people. After 10 years of living in the area, she is thrilled to be a part of Futuro Verde team and is eager to use her knowledge to communicate and reach out to as many people as possible. In her free time, Carla enjoys spending time with her husband, two children, and friends, creating artwork, walking on the beach with her dogs and doing yoga when possible!
Contact:
contact@futuro-verde.org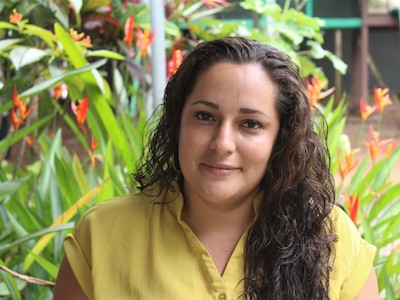 Daniela Ugalde
Librarian, IT Specialist
About Daniela
Daniela is from Heredia, Costa Rica. She studied for 3 years at the National University of Costa Rica, working toward a degree in Engineering, specifically Information Systems. When her son Santiago was born, she decided to take a pause from her studies and dedicate herself to raising her son. When her husband Joaquin Salas, the math teacher at our school, was hired by Futuro Verde, Daniela moved with her family to Cobano to take advantage of the beautiful opportunity the school provided to their family. Daniela likes to spend her free time with her husband Joaquin and her son Santiago and she also likes to work in her garden and care for her plants. Currently, Daniela is very excited to be returning to her university studies as well, having registered for a degree in Library Science from the State University for Distance Education. With much joy and desire to help in any way, Daniela is thrilled to join the Futuro Verde team and support our department of IT and the Library.
Contact:
it@futuro-verde.org
Martina Cellie
Preschool Assistant
About Martina
Originally from Italy, Martina lived for over 10 years in England. In that time, she earned a BA degree in Education with Early Years Specialization from London Metropolitan University and taught preschool and primary years for 8 years before moving to Montezuma with her daughter Alessia in 2013. After teaching for a short time in Futuro Verde in 2013, she is been tutoring children of different ages. In 2015/16 she enjoyed the challenge of opening Puedo School and took the responsibility of Early Years Coordinator, managing all aspects of teaching and learning. Martina is happy to be back at Futuro Verde and excited to be able to contribute and support learning in the Preschool Department.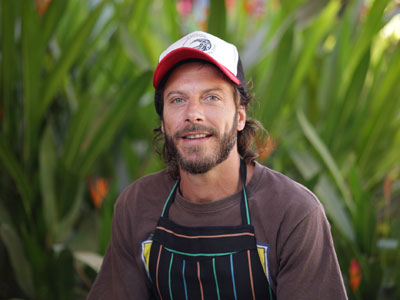 Martin Grisi
Kitchen Manager
About Martin
.Martín Grisi, a specialist in international cuisine, graduated with the title "Professional Gastronomic" in Argentina. He worked for many years in oriental cuisine and for events for more than 1,000 people. He has also given several seminars on cooking at the IAG (Gastronomic Argentinian Institute). Martin came to Costa Rica with his wife, Eugenia, more than 15 years ago when a gastronomic from Escazú brought him to manage his restaurant. After a year he moved to Montezuma, where he worked for several years at a well known restaurant in the area. It was in that restaurant that he had the opportunity to learn the secrets of Mediterranean cuisine. In 2012 he decided to open his own place, Natsu Sushi, where he delights his clients with his delicious meals. His main role in the FV kitchen is to assure students have a healthy diet through balanced and creative menu creation. To achieve this, he will be playing a bit with classic ingredients in order to create cuisine with greater variety of delicious choices!
Contact:
cocina@futuro-verde.org
Mariela Moreno
Kitchen assistant
About Mariela
Mariela was born in Guapiles, Costa Rica, but moved to Jicaral at a young age. When she got married she and her husband moved to Cóbano. She worked for two years as a cook at the school in La Tranquilidad. In her free time Mariela enjoys going to the beach and the rivers with her husband and son.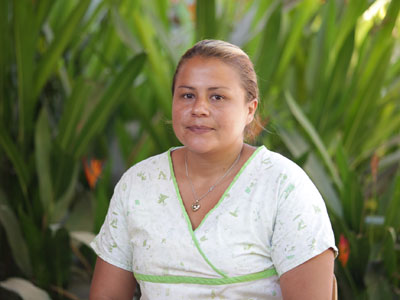 Raquel Tellez
Kitchen assistant
About Raquel
Raquel lives in Pánica and arrived from Nicaragua to Costa Rica in 1998. During her free time she likes to go to the beach with her 3 children.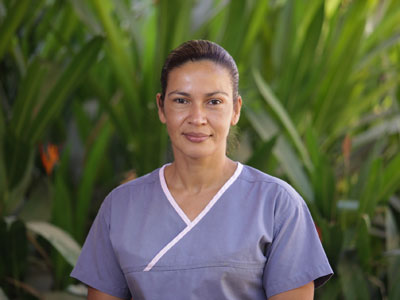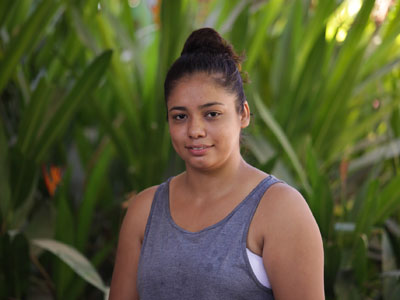 Jusneyling Marenco
Cleaning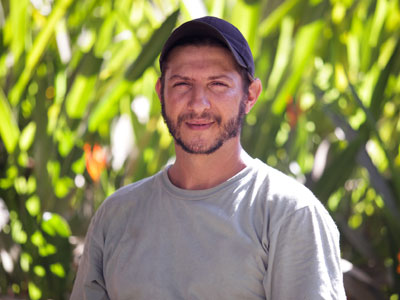 Walter Mairena
Maintenance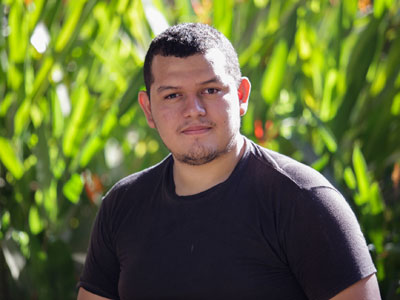 Rolando José Bustillo Chamorro
Security