Association Futuro Verde
Multiculturalism, environmentalism, and social consciousness is the basis for the FUTURO VERDE PROJECT.
The Futuro Verde Project is a non-profit association with the goal to create a community education organization consisting of three parts:
Centro Educativo International Bilingüe Futuro Verde: Private bilingual international school which is auto-financed by monthly school fees and which extends scholarships of some kind to at least 25% of the student body.
Educación Interactiva Futuro Verde: Outreach to area rural public schools to provide academic enrichment programs through our volunteer program.
Centro Comunal Futuro Verde para Jovenes: Extra-curricular program open to all students of the region providing organized activities (sports, arts, music, language, etc.)
Enrico Reolon
Board President
Rico has been a steady and constant presence in the school leadership since its founding. Rico and Khalida took over the management of the school from Andrea and Astrid in December of 2010. In 2010, Rico provided enormous support to the school in the form of materials, labor and architectural expertise for the facilities in the move from the first campus to the current campus and for the accreditation process. He continues to provide professional services related to the expansion of our current installations and in the design of our new campusIn 2013, Rico was elected President of the Board. Rico and wife, Kris Cook of Nativa Realty, met in her native Bay Area of the US and moved here in 2003. They have two daughters who attend the school.
Sonya Danchick
Board Vice President
Sonya is the founder of the Mal País Education Project and is passionate about education. Her focus and enthusiasm is with curriculum development and holistic learning. Sonya and her husband Jon met here in 2000 and have two sons, their oldest of whom attends the school.
Nohelia Hidalgo Montero
Board Secretary
Nohelia was born in San Ramon, Costa Rica and moved to Cóbano in 2002.  Nohelia is married to Juan Carlos Fonseca, who has taken care of the legal servicing free of charge for the school since its inception. Nohelia has a degree in Education from the UCR and with that degree has worked as both an administrative assistant and substitute teacher. Currently Nohelia is working from home as a freelance artist, focused primarily on crafts and decoration. Noheila and Juan Carlos' two children both attend the school.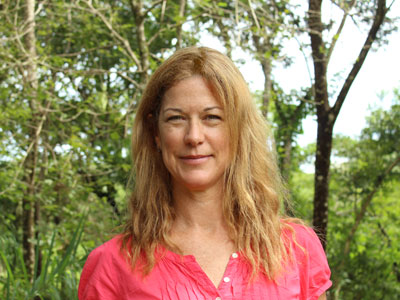 Tandy Demarchelier
Board Treasurer
Tandy was born in the Panama Canal Zone to an American father and Ecuadorian mother. After living in various cities of the USA and in Ecuador and Venezuela, she sailed thousands of miles before settling in the South of France for 25 years. Tandy has extensive experience in high value financial negotiations as a yacht broker but says that managing the family budget can be the hardest job of all sometimes! Tandy and her husband are enjoying a more simple life closer to nature with emphasis on helping the community in any way they can and their daughter attends Futuro Verde.  
Brad Shaw
Board Vocal I
Originally from western Canada, Brad was a stockbroker in his former life before moving to Santa Teresa in 2003. He traveled around the world for seven years before deciding to settle down here in what he believes to be the best place on earth. Brad and his wife Tara run the small boutique hotel Villas Hermosa on the stunning Hermosa Beach. They have two children, both of whom attend the school. 
Georges Lefebvre
Board Vocal II
Georges was born in Paris, then immediately moved to NYC for 33 years where he owned 7 successful restaurants. He has lived in New Zealand, Bangkok, and Indonesia. He first traveled to Costa Rica in 1983 and finally moved here in 1999. Georges's hydroponic farm at Hacienda Okhra, a 43 hectare farm with beautiful ocean views, has inspired a hydroponic garden project at the school with a goal of bringing the farm to the students' table for meals. Georges and his wife Stefanie have 3 children, all of them attending the school.
Cristiano Bonfigli
Board Vocal III
Cristiano moved to the area in 1992 from Italy and opened the successful shop, Cosas del Mundo, in Montezuma, and subsequently Tuanis in Playa Carmen, Sta. Teresa. Cristiano helped to coordinate the kitchen and school snack bar to provide healthy food. He oversaw the school menu, coordinated a conversion to organic produce, and ensured that the kitchen uses all natural ingredients. He has a son and a young daughter attending the school.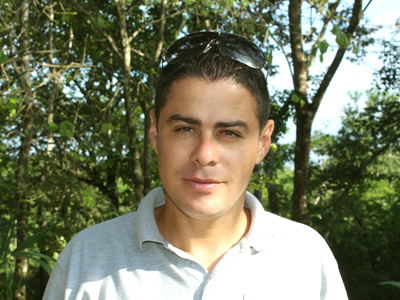 Daniel Jiménez Grimas
Board Comptroller
Daniel is a businessman from Santa Teresa and lives in Paquera together with his wife and two children, who are students at Futuro Verde. Originally from Puntarenas, he founded his successful business Santa Teresa Travels five years ago. His company has been providing daily transportation services from Santa Teresa, Mal Pais and Playa Hermosa to school and back to many Futuro Verde families. As a new member of the Futuro Verde Board of Directors he looks forward to supporting and collaborating with Futuro Verde.